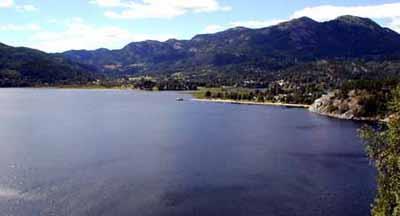 Hegna Camping
Hegna camping is located in beautiful natural surroundings with the opportunity for plenty activities, both summer and winter. We are purposefully located centrally in order for you to be able to explore everything the area has to offer. Only ten minutes by car to either Bø or Seljord.

Hegna Camping is open all year around. Our snack shop is open during the summer. Here you can purchase items for daily use, ice cream, soda, newspapers, and more.

We offer:
- Cabins, prices from 350 NOK. We offer simple cabins at a low cost, or you can rent a cabin with bathroom and TV. We provide you with linens for a small fee, and you can choose to do laundry yourself or have us wash for you.
- Caravans, short-term or for one year.
- Tent, great spots for short-term.
- We offer modern sanitary facilities.
- Wireless internet.
- Harbor, free harbor by the Seljord waterside.
- Culture barn, for public enjoyment.
- Barbecue area, for public enjoyment.
- Boat rentals.
- Bathing, in the river or in the water of Seljord.
- Fishing, great fishing possibilities in the river or by boat.
Adress

Manheimstrondi 1543
3840 Seljord

Classification